THEATRE
THEATRE COMEDY & CABARET SHOW REPERTOIRE
For all bookings, enquiries, or further information please email info@anyaanastasia.com
Scroll down for video content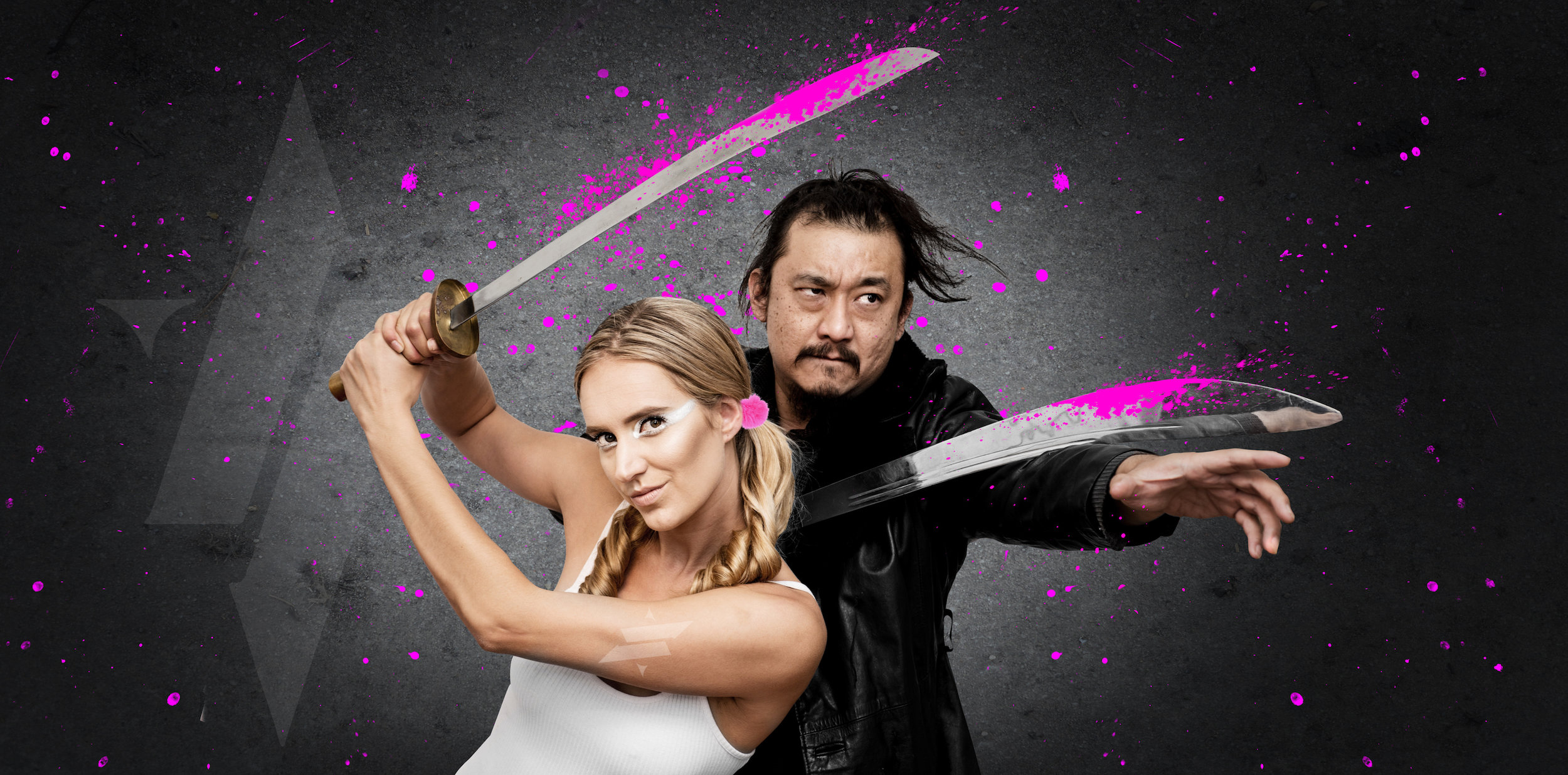 This hard-hitting and hilarious production articulates the social discomfort and disconnect that has taken over the 21st century. Anastasia mocks the self-congratulating slack-tivist keyboard warriors, critiquing society's suckling dependence on technology, social media, and the current political landscape.
Award-winning musical-comedy maverick Anya Anastasia brandishes her razor-sharp satirical wit, gleefully attacking and dismembering perils of the modern world.
Alongside musical partner-in-crime Gareth Chin, she stalks the 21st century landscape: a singing, smart-phone-wielding, Gaga-esque vision in white spandex and stacked heels. 'The Executioners' is digitally enhanced millennial neo-cabaret cutting right to the (funny) bone. And yes, there is a fight scene.
WINNER: Made in Adelaide Edinburgh Award - Adelaide Fringe 2018
WINNER: Best Cabaret Weekly Award - Adelaide Fringe 2018
WINNER: Critics Choice Weekly Award - Adelaide Fringe 2018
After 10 years of writing, performing and touring internationally, Australia's "Cabaret Queen" is quitting cabaret. Cabaret Star For Hire is part performance-art, part Aussie opera, part physical and musical comedy extravaganza with all-original songs and hysterical musings of an artist on the brink of superstardom, or mental breakdown, or both.
Anya Anastasia's brand new one woman show highlights her bizarre and riotous CV as she publicly seeks new employment. Tired of the razzle-dazzle insta-glam "look at me I'm nailing it" showbiz lie, she has crafted this brazen showcase of one woman's failures - admitting to everything that she's messed up or covered up in pursuit of her dreams, and the result is hilarious. Relatable and honest tales from a recently retired showgirl discovering her new life's purpose ... to become a secret agent super-spy and uncover a world-wide global plot.
Songs include an original feminist take on a Bond theme, a song for her proposed new Disney movie: "Existential Crisis The Musical", and a heartfelt ballad "Never give up on your dreams and other terrible pieces of advice".
Adelaide Fringe 2019 - Winner of the Best Comedy Cabaret (The Sunday Mail)
Anya Anastasia joins forces with an all-star all-female band! Armed with mischievous social satire and original songs that range from the sublime to the absurd, from sultry magnificence of Shirley Bassey proportions, to raucous post-apocalyptic calypso, this is the well-traveled and world-renowned Rogue Romantic.
A feisty songstress fuelled by a lust for revenge while backed by her kick-ass all female, all dominating band featuring London's own Laurie Black on electric piano, Adelaide's star bass player Annie Siegmann (Pussy Riot, Yothu Yindi, Hana Brenecki), and Bec Matthews (Circus Oz, Yana Alana) on drums, Rogue Romantic is a seductive and exhilarating night of music, theatre and fun.
Filled with electrifying twists, hilarious physical comedy and intense audience interaction in the most intimate sense, audiences experience the thrill of this extravagant glamorous and off-kilter diva right in their very laps (literally)!
WINNER "The Voice" Pick of the Edinburgh Fringe Award 2017
WINNER: Critics' Choice Weekly Award - Adelaide Fringe 2018
Songs of Cake and Death
Black humoured, visually opulent, and dripping with satire, this Torte e Mort will tempt your sweet-tooth and traumatise your funny bone.
Torte e Mort is a comedic and contemporary reflection on decadence, pleasure, hedonism and potential earthly consequences, as it traces the life, death, and hilarious self-realisations of ghostly spectre of Marie Antoinette – queen of decadence and deficit. Though the glamorous central figure Marie Antoinette is based on the infamous French queen, this show is jam-packed with hot political contemporary musings of leadership out of touch with the needs of the people and the planet. Torte e Mort was a smash hit of Edinburgh's Assembly Festival in 2016 taking home a swag of 5 star reviews and fans. Incorporating shadow puppetry, circus & physical theatre, music and burlesque and breath-taking lighting and special effects, this is a no-holds barred magical visual feast.
Torte e Mort was written by Anya Anastasia and directed by Helpmann; award-winning performer Sarah Ward (Yana Alana) and Sue Broadway, (Circus Oz) a Melbourne based devisor of circus and physical theatre.
Winner Best Cabaret Adelaide Fringe Weekly Award 2016
For all bookings, enquiries, or further information please email info@anyaanastasia.com